How hard can you cope?
Our unique NFT airdrop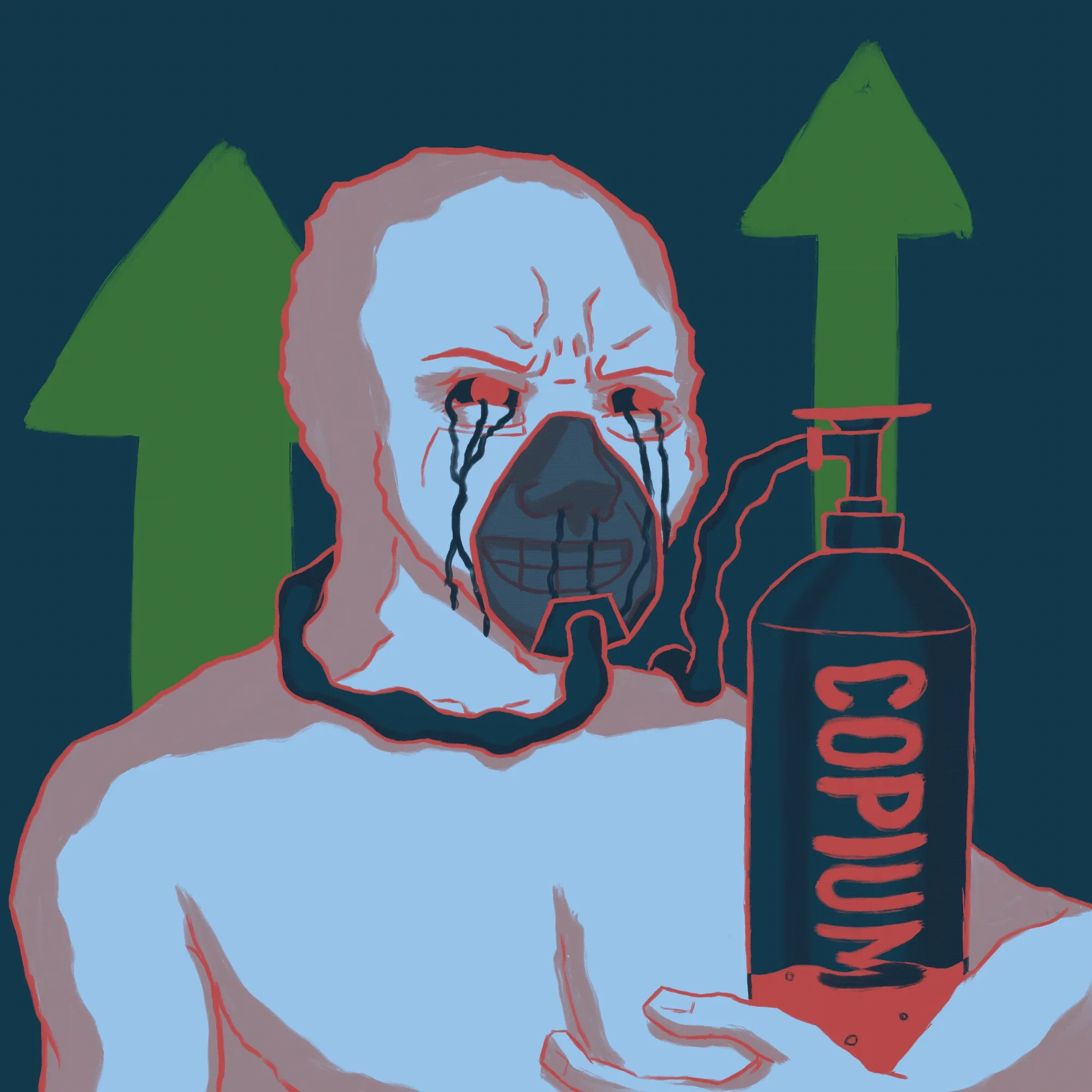 COPE HARDER
Bought the top, anon? Did your favorite influencer use you as exit liquidity? Were you part of a Ponzi scheme that left your bags worthless while others walked away with generational wealth? We feel your pain, and we're here to help you cope.

$COPIUM is more than just a token; it's a movement driven by humor, fellowship, and the shared experience of navigating the unpredictable crypto landscape. Our community-driven token aims to turn your regrets into riches, transforming past crypto mishaps into future gains.

With the support of our team of meme wizards and crypto enthusiasts, $COPIUM embodies the true spirit of the internet: resilience, laughter, and a healthy dose of trolling. We're here to prove that laughter can, indeed, make you rich, even if you bought the top.

So, if you're ready to embrace the FOMO, cope with your past crypto blunders, and turn them into profits, join the $COPIUM movement. Together, we'll turn coping into a winning strategy, ensuring that you never miss out again.

Get ready to laugh your way to the moon with $COPIUM – where coping is the new winning!
$COPIUM Pre-Sale:
Invitation-Only Event
The $COPIUM pre-sale is a selective event, open only to those who receive an invitation. There are multiple ways to increase your chances of securing an invitation:
1. Early Copers:
The earlier you show interest, the better your odds.
2. Social engagement:
Active participation on our social media platforms can catch our attention.
3. Meme creation:
Nothing says you're part of the $COPIUM crew like a creative meme.
Token Unlocking Structure: Safety First
• 10% of your pre-sale tokens are unlocked right off the bat, offering a prompt chance to recover your original stake.
• The remaining 90% of your tokens will gradually unlock linearly over a time period of 3 weeks

This unlocking structure prevents pre-sale buyers from immediately selling off their tokens, protecting those who buy in the market from a potential price drop. It's a key part of our commitment to ensuring a fair launch and prioritizing the safety of our investors.
Airdrop
NFT

+ Airdrop: A THREE-STAGE COPE JOURNEY

Our unique NFT airdrop operates across three stages to reward our top $COPIUM holders. Here's a simplified breakdown:
1.
Stage 1: The Snapshot
To qualify for the NFT airdrop, you need to rank among the top-200 $COPIUM holders. This is based on the quantity of tokens held in your address. Two hours post-launch, we'll take a snapshot, and if you're in the top-200, you'll bag the NFT plus an airdrop of $COPIUM tokens.
2.
Stage 2: The Tank Filling
Each airdropped NFT features a COPIUM tank that fills up across 20 tiers (in 5% increments), reflecting the amount of $COPIUM you own. The metadata and visuals of your NFT will update every few hours to represent the changing level of your tank. This stage spans two weeks.
3.
Stage 3: Claim Your Airdrop
Now, it's time to claim your $COPIUM airdrop using your NFT, which remains yours to keep. The size of your airdrop correlates directly to the fullness of your COPIUM tank, i.e., the number of tokens you own multiplied by the duration of your holding.
Tokenomics
| | | |
| --- | --- | --- |
| Presale | 30.00% | 300,000,000 |
| Liquidity Pool | 25.00% | 250,000,000 |
| Marketing | 33.31% | 333,100,000 |
| Airdrop | 1.00% | 10,000,000 |
| Team | 0.69% | 6,900,000 |
| Future Developments & Partnerships | 10.00% | 100,000,000 |
| | Total: | 1,000,000,000 |
FAQ
What is COPIUM?
COPIUM is a unique, engaging, and innovative meme cryptocurrency that brings together humor, fairness, and the potential for financial gains.

The project is built around the concept of "coping" with missed opportunities and FOMO in the crypto space, delivering entertainment and lucrative rewards through its tokenomics and exclusive Airdrop offerings.
How does the pre-sale work?
The $COPIUM pre-sale is an exclusive, invite-only event designed to give early supporters a chance to secure tokens before the official launch. To increase your chances of being invited, we highly recommend engaging with us on Twitter and Telegram, as active participation in the community is one of the key factors considered for pre-sale invites.
How can I get an airdrop?
Detailed information on how to qualify for an airdrop is available in the Airdrop section of our website.

Be sure to read through the requirements carefully to increase your chances of receiving a valuable airdrop.
IS BUYING COPIUM SAFE?
While all tokens carry a certain level of risk, $COPIUM is dedicated to providing a secure and transparent environment for its community.

Our team consists of experienced developers and OGs in the space. We implemented various measures to ensure the safety of the project.

However, as with any token, we encourage you to do your own research and only invest what you can afford to lose.
Wen?
$COPIUM is launching very soon! To stay informed about the latest news, updates, and important announcements, make sure to turn on notifications for our official Twitter account and join our Telegram!


How to Buy
1. CREATE A WALLET

Download Metamask or a wallet of choice from the app store or Google Play store for free. For Desktop users, download the Metamask.io extension for your browser of choice.
2. GET SOME ETH

With ETH in your wallet you will be able to swap for $COPIUM and join the army. If you don't have any ETH, you can buy directly on metamask, transfer from another wallet, or buy on another exchange and send it to your wallet of choice.
3. SWAP ETH FOR $COPIUM!

Connect to Uniswap. Go to app.uniswap.org and connect your wallet. Paste the correct $COPIUM token address into Uniswap, select COPIUM, and confirm. When Metamask prompts you for a wallet signature, sign.

Swap your $ETH for $COPIUM. We have ZERO taxes so you don't need to worry about buying with a specific slippage, although you may need to use slippage during times of market volatility.